So it's summer! there's nothing better than being in a beer garden with friends enjoying the beautiful summer sun and sipping a G&T, or a vodka lime and soda… Not for me! This summer I am not drinking for health reasons and as a personal challenge to myself. before keto, I would easily polish a bottle of Pinot Grigio by myself on a weekly and if not daily occurrence during the summer. I never thought about the sugar content or the carb impacts I simply enjoyed the taste guilt free! Gone are those days. with some sadness and some relief too I wasn't an alcoholic or dependant upon drinking I just enjoyed it.  It was a decompression or a way to unwind from a buy week or simply an indulgence I really enjoyed.
Seeing as I am NOT able to drink this summer and owning a large selection of alcohol, I have my own bar as I like to entertain and throw house parties. I have been searching for non-alcoholic alternatives to my favourite drinks. up to now, I have found a spiced non-alcoholic gin. I am really enjoying this and have even made a few cocktails. I also have a non-alcoholic vodka on the way. so shall be looking at ideas for gin martinis and other vodka-based cocktails.
Distilled spirits such as rum, vodka, whiskey, gin, and tequila have no carbohydrates. You can have them as a shot, on the rocks, or with a sugar-free or diet mixer. Mixers are either naturally carb-free and calorie-free (club soda, sparkling water, plain water) or come in diet versions (tonic water, ginger ale, cola, lemon-lime soda such as 7-Up or Sprite zero).
Highballs are made with just these mixers and liquor. They are easy to make sugar-free. For example:
Gin (or vodka) and diet tonic
Jack and Coke (made with diet cola)
Scotch and soda
Seven and Seven (Seagram's 7 and Diet 7-Up)
Rum and diet cola
Rye and Ginger (rye whiskey and diet ginger ale)
Top 5 keto alcoholic drinks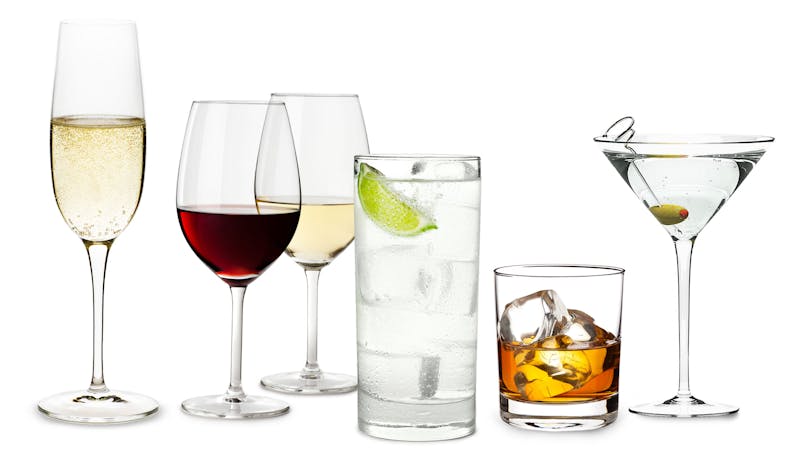 On the keto diet, you can still enjoy a drink or two on special occasions. it's simply like anything else with the keto diet and that means monitoring and moderation. Lots of cocktails and alcoholic drinks contain a lot of sugar, but there are some really good keto options, with little or no sugar or other carbs. Here's my list of the top 5 keto alcoholic drinks.
1.Champagne or dry sparkling wine – one glass contains about 1 grams of net carbs.
 A low carb toast to good health. I love prosecco and champagne and recently found bottles in France for three euros so brought lots back in our campervan.  Brut, Cava, Prosecco are all low carb options be sure to look for the driest versions. 
2. Dry wine – red or white – one glass contains about 2 grams of net carbs.
It has been a key part of human civilization for at least 8,000 years, it pairs so wonderfully with food and friends and thankfully, dry wine from time-to-time is fine on a keto diet. Cabernet Sauvignon, Merlot, Pinot Noir, Shiraz/Syrah, Zinfandel, Sangiovese, and Cabernet Franc.
3.Whiskey – one drink contains 0 grams of carbs.
I love whiskey! Whether you like it neat, with rocks, soda or water, it's zero carbs and gluten free, even though it comes from fermented grains. Scotch, Irish, Canadian, Bourbon, Rye — whatever its name and style, it's okay for a special occasion. I shall link back to whiskey cocktails after further research! 
4.Dry Martini – one cocktail contains 0 grams of carbs.
This is one of my partner's favourite drinks! "Happiness is…finding two olives in your martini when you're hungry."Johnny Carson, There are so many wonderful variations to this including my own favourite a dirty martini. 
5. Tequila – one drink contains 0 grams of carbs.
Tequila is made from the blue agave or agave tequilana, and the secret to this wonderful drink is to sip it not shot it! There are so many wonderful tequila cocktails that can be adapted to low carb versions. According to Tequila.net, the main types of tequila are split into two categories: 100% Blue Agave, and Tequila Mixto (Mixed). These, in turn, are then divided into five types of Tequila: Tequila Silver – Blanco – Plata – White – Platinum; Tequila Gold – Joven – Oro; Tequila Reposado; Tequila Añejo (extra aged); and Tequila Extra Añejo (extra, extra aged). Reposado and Añejo are excellent substitutes for rum, bourbon or scotch and cognac or Armagnac. Try this signature cocktail for a delicious spin on an old classic.
Carbs in Other Cocktail Ingredients
Small amounts of bitters are often used in cocktails. A tablespoon of bitters usually contains 5 to 7 grams of carb.
Vermouth is a flavoured fortified wine used in the classic martini and other cocktails. Dry vermouth contains about 1 grams of carb per ounce, whereas the sweet type contains about 4 grams per ounce.
Sugar-Free or Low-Carb Cocktail Recipes
These recipes are lower in sugar and carbohydrates:
Liqueurs
Liqueurs have the greatest amount of carbohydrates of all alcoholic drinks, If you're going to sip them on their own, you'll need to have a smaller pour. For cocktail recipes, use a smaller amount or substitutes.
These carb counts are based on the measure of one regular-sized jigger, which is typically 1 1/2 ounces. Each brand may differ slightly in the amount of carbohydrate it contains. Check the labels if you have a choice of different brands.
Amaretto: 25 grams
Bailey's Irish Cream: 11 grams
B & B Benedictine: 8 grams
Campari: 12 grams
Coffee Liqueur (e.g. Kahlua): up to 24 grams
Cointreau: 15 grams
Creme de Cacao: 22 grams
Creme de Cassis: 17 grams
Creme de Menthe: 21 grams
Grand Marnier: 10 grams
Kirsch: 9 grams
Ouzo: 16 grams
Sambuca: 17 grams
Triple Sec: 16 grams
I was surprised by the results of researching just how many carbs are in liqueurs you need to be careful and make sure you don't get tempted by excitingly tasty sounding cocktails on menus when out with friends these will surely be about your keto carb allowance. My advice is always to drink plenty of water when drinking out with friends and understand that your tolerance might not be what it used to so be aware and don't end up like me… being sick at a friends birthday party in the bathroom. I learnt the hard way.